Software/Products/Data Security

Complex online surveys can be undertaken by many other vendors as well, …
… we, though, have gone one step beyond when it comes to survey solutions.

eplit develops industry solutions and software for information retrieval from the Internet. Our software is flexible and manifold, supporting clients from a wide variety of industry sectors when retrieving relevant information.

In addition to the professional realisation of individual projects, the integration of survey projects into your existing IT landscape and applications is the focus of our software development.

The modular software architecture from eplit.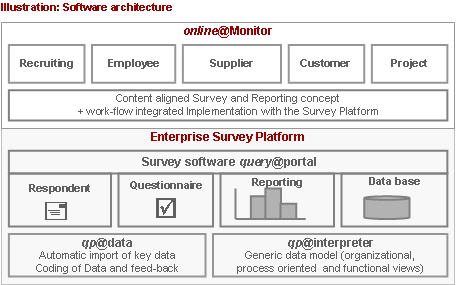 The Enterprise Survey Platform allows for a company-wide coordination of your survey projects to take place and as well as the analysis of the results that stem from all of the implemented survey projects within the company. Thereby the results from individual surveys become usable numerous times over and they can be combined. This leads to a reduction of the scope of the individual surveys and the number of individual projects needed. In addition, a comprehensive, but easy to implement, system integration is possible.

More information on the Enterprise Survey Platform and the software family query@portal can be found here.

With the online@monitors our experience of many years that stems from successful customer projects was combined into an integrated solution concept. Thereby, using the Enterprise Survey Platform, we deliver a one-stop coordinated, content-related survey and reporting concept for each industry sector as well as the technical realisation.

More information on the online@monitors can be found here.

In addition to the development and marketing of standardised industry solutions, that always set new benchmarks, eplit also has special solutions on offer; i.e. individual modifications and enhancements of its tools.